10 Dec

"Non solo marmo …" – by Clara Caverzasio – RSI RETE2 Laser 17.02.2016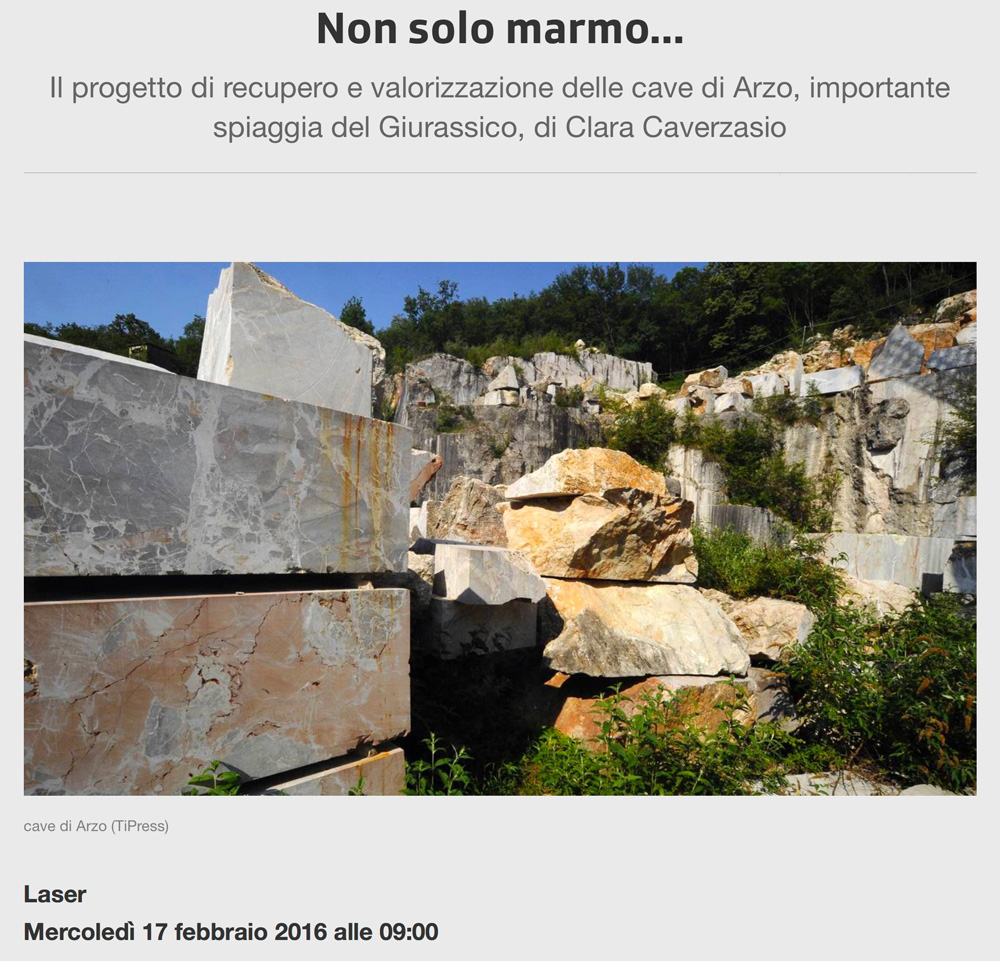 The project for the recovery and enhancement of the Arzo quarries, an important Jurassic beach (by Clara Caverzasio – 17.02.2016).
Listen to the radio broadcast – RSI Rete 2 17.02.2016
The Arzo marble, a splendid stone with characteristic reddish veins, jagged with white and gray, for centuries has filled European churches and not only, especially between the 17th and 18th centuries: from Milan Cathedral to San Pietro in Rome, to the churches of St.Pietroburgo. An activity that, up and down, arrives until the beginning of this century, when in 2009 the Rossi family, the last to carry out the activity of marble extraction and processing for six generations, is forced to close the company.
But in 2011 the Arzo Patriciate, owner of the quarries, bought the buildings used for marble processing, becoming the promoter of a recovery and enhancement project, entrusted to the architect Enrico Sassi. He will be our guide, in this report by Clara Caverzasio, in a site that immediately reveals itself much more than a simple marble quarry: beyond the evocative beauty of the place, the Arzo quarries also represent a sanctuary for geologists and paleontologists and a place of value for naturalists; the area is not by chance inserted in the UNESCO perimeter of Monte San Giorgio. This is why the project will not be limited to highlighting an interesting historical heritage with restoration and museum and educational restoration of the places where marble was extracted and worked, but will also enhance the naturalistic and geological aspect of the area; while offering a new generation public space, thanks to the arrangement of the large and spectacular natural amphitheater where public events can be organized.